Our Products
At Hear Me "Raw" we are passionate about mindfully crafting functional snacks without compromising taste.
We provide nutrient-dense snacks packed with superfoods so you can feel good knowing you're fuelling your body properly. Our products contain no preservatives or fillers, which means you'll find us in the fridge not on the shelf.
We want to leave a positive impact on the planet so all our packaging is either recyclable or compostable. Our products are locally made in Canmore, Alberta, click here to hear our story.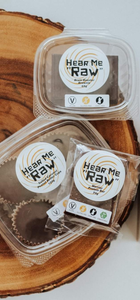 What our customers are saying
Just devoured a brownie after doing Legacy Trail... was just what I needed!

@crazyirishvegan
I just tried the salted caramel peanut butter cups and they were to die for-simply divine! They got the thumbs up from my husband and boys too! How could something that tastes so good have so many benefits!?!

Jane
Spirulina and Innerglow... I never get enough!!! They are so good, kids are loving them!!!!

@washboardsoaperysuch
I was just telling [my friend] that your peanut butter cups are simply a masterpiece. They far exceed every other peanut butter cup I've ever tried... (and I've tried a few... ahem).

Tym
I tried your warrior bars the other day and absolutely loved them!!

@blondiebaskets
I got your chocolate peanut butter cups are pure Heaven!! For real! I'm so excited that there's something utterly delicious that I can actually eat. Thank you!!!!!!

@ramonaremesat